Privacy Trees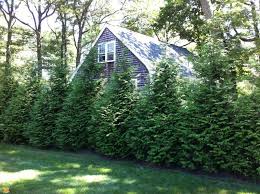 Fast Growing – Privacy Trees
If you are looking for a little privacy from your neighbors, or you want to block unwanted noise or the wind from yourself or home, then you should plant a fence around your compound. Privacy trees help you shield yourself from all unwanted disturbances. The privacy trees contribute to improving the value of land and even benefit the environment one way or another. They are fast growing privacy trees; this is an excellent trait which makes them suitable for their purpose. Their rapidly growing will guarantees that they establish within a short while into a beautiful fence which will in turn act as a barrier of all sorts.
The privacy trees are as follows and with their respective characteristics;
Carolina Sapphire – fast growing, Disease resistant and they grow up to four feet in one year.
Thuja Green Giant– grows up to five feet annually, good for narrow areas, that need height.
Italian Cypress- Narrow and elegant look, uniform, and drought tolerant.
Nellie Stevens Holly- fast growing, grows almost everywhere and all year privacy.
Leyland Cypress– large sizes available and fast growth.
Emerald Green Arborvitae- evergreen and grows anywhere.
America Holly- fast growth, grows anywhere and dense evergreen privacy.
Eastern Red Cedar- drought tolerant and dense hedge
The privacy trees have common attributes which are outlined below;
They grow 2-3 ft. every year until they fully mature, their first growth rate makes suitable to use as a hedge since they can be trimmed to the desired height.
They get a dark or bronze shade during the winter.
They do not require pruning each and every time since they grow uniformly, but they can be sheared if the need arises.
They are disease and insect resistant. Therefore, they do not require regular spraying for serious diseases or pest problems.
They are good hedge material since they are bushy, they also have tiny glossy green leaves which are firmly packed in overlapping rows.
They are resistant to wind and also withstands heavy ice, this makes them an excellent choice for a fast growing windbreaker.
They mostly grow in a pyramid shape.
They have great attributes; this makes the privacy trees to have aesthetic value. Evergreen privacy trees are pleasing to look at, and they add character to your landscaping. If you want a perfect privacy hedge, you should space your privacy trees and shrubs properly. These types of evergreen trees spacing ranges from six to ten feet apart so that it can create an impenetrable barrier around your homestead. With dense foliage, evergreen color, and a fast growth rate,  these varieties of trees are perfect for living fences.
For them to grow properly, you should avoid poorly drained and wet soiled areas, as much as they tolerate a broad range of soil textures they are very salt sensitive and you should avoid such areas and conditions.
The privacy trees are high in demand since they have extraordinary qualities which make them able to survive almost any type of condition and still come out as beautiful as they normally are.