Emerald Green Arborvitae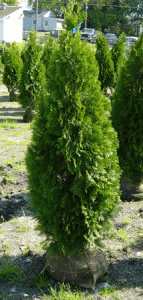 Emerald Green Arborvitae Trees
The Emerald Green Arborvitae also known as the Thuja Occidentalis. The name arborvitae is a Latin form of the French "l'arbre de vie" which basically means the tree of life. The Botanist who picked up that particular happened to be Swedish, and he picked other traits of the tree. The genus name, Thuja, is from a Greek word meaning a sweet smelling substance or perfume. When you squeeze the leaves of the emerald green arborvitae, it produces a sweet smelling aroma which people define it as nature's perfume. The specific name, occidentalis, means the direction west, where the tree was discovered, and Sweden happens to be in that direction.
The arborvitae emerald green is the most popular privacy screening tree or hedge, it has a beautiful round and upright shape which makes it perfect for landscaping or as a hedge around property. Most people opt for the arborvitae emerald for privacy purposes. It is quite pleasing to the eye. It has a fast growth rate, therefore, you do not have to wait for long for it to grow into a full hedge, it also maintains a healthy green foliage all throughout the year regardless of whether there is rain or not.
The Emerald Green Arborvitae are cylindrical cedar trees, if they are allowed to grow for long without having them pruned, they will grow to be abnormally tall and thin since they will be competing for sunlight thus having accelerated horizontal growth. If they are pruned at the top, they will have a bushier growth since their growth will be reverted from them growing tall to bushier. Besides pruning, the only maintenance you should do is cleaning out dead branches. The tree will accumulate dead branches and materials at the tree bottom. You should occasionally clean out the area around the tree.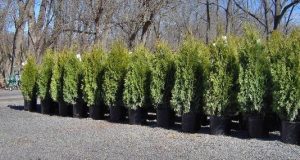 The emerald green arborvitae should be watered during their first year. Most people do not water them and they end up drying. When they are newly planted, the Emerald Green Arborvitae should be watered since they are susceptible to drying out if they lack sufficient water. As the tree matures it will need less or even no watering at all but the first year will act as the determinant of this.
Attributes
The tree grows in a pyramidal shape.
It does not lose its green foliage color during the winter like the other arborvitae trees.
It has tiny, scale- like, lustrous foliage that displays as a flattened, fan like vertical spray.
It releases a sweet smelling aroma if its leaves are squeezed together.
It is usually pruned at the top lightly so that it can maintain a bushy appearance especially if it is used for privacy screening purposes.
If it is to be planted as a hedge for privacy screening purposes, then they should be planted 2-3 feet apart from each other.
The Emerald Green Arborvitae tolerates heat and drought once they have established themselves and that is why they maintain green foliage throughout the year.
It provides nesting sites and cover for birds and small animals. The flower buds, seeds, and foliage are a source of food for wildlife.